1962-3 T120-TR6SC Unit Construction Identification Points
Frame ( F5448) - Rear section (F5449)
Vin number stamped on head lug, no model stamped only DU followed by the number.
No horn attachment on front torque stay lug
Wire extension welded to main stand spring lug - mid season
Front footrests (F5244/5) fit on sub frame lower bolt taper lugs
Swing arm spindle extracts from drive side
Main stand (F5530) fitted with detachable extension arm (F5350) Extensions welded to feet
Rear brake pedal (F5242) mounted to engine plate via a bolted on spindle (F5604)
Both rear engine plates (F5459/60) do not have provision for footrests - secured by 7/16" studs (E3114) + standard nuts
Petrol tank (USA 3 gall) is pre unit item with 3 point attachments added, dents for original (pre unit) seated rubbers are left in place - Petrol tap F4971-4972 secured by fibre washer F1511
8H Horn fitted under battery carrier, attached to mid way bracket on down tube by bracket F5086
Forks are pre unit items
Handlebars held by "P" bolt system - secured by plain washers, solid pull back yoke (Lug) H1287 was available JoMo service note 05-63 confirms
No washers fitted to top rear suspension bolts (E2113)
Exhaust pipes (E4716/18) secured by slotted "L" brackets welded to pipe, extended to under the mid engine mount - secured to head by 21 finned clamps (E4501)
Long type silencers fitted E4949 - Both UK - USA
Rear footrest mounts made from 1/8" plate, fitted 1/8" spacers between plate and frame
Both handlebar levers have large ball brazed on blade, braze blended to blade, con slot for the cable
Petrol tank front support bolted on frame not welded (very early model)
Lock washers (W76) fitted to rear hub (Hot Rod mag June 63 confirms)
No logo on rear of seat
ET coils fitted under seat (this year only) same spec as T100SC (Lucas manual CE803/63 confirms)
Gaylins book page 124 confirms the wiring harness(54933229) for a TR6SC was "Borrowed" from the T100SC which was also fitted with ET ignition (under seat location)
Further confirmation from the 1963 Triumph (TriCor) sales brochure.
JoMo service note 5-63 - The electrical system is the same as the T100S/C
TriCor service sheet May 15 1963 - further confirms parts are exactly the same as the T100SC
Vintage Bike 2007-1 further confirms ET location
Detachable headlamp - 63 TriCor Sales brochure confirms
Kill switch 726204.Lucas parts list CE 830/63 confirms
Swing arm distance between fork ends; 7 1/2"
Rear suspension (64054164) 12.9"
Engine
Cylinder head (E4928) Nine point fixing
Small crankcase drain plug (E4543) 3/4" x 16TPI
Blanking plug at rear of gearbox (E4579)
No TDC provision at rear of crankcase
Smaller alternator plug (Early T100 type)
Breather pipe 6-8" long - dischrage deposited direct to ground
Drive side oil seal spring points away from engine (TriCor Mechanics Training manual 1967 confirms - TG Gunn )
Kick start short type (T1270) Pre unit item
Barrel inner nuts(W76) machined from .525 across flats bar
Oil feed pipes secured by ferrules
Rev counter drive taken direct from exhaust camshaft
Carb manifolds joined by plastic pipe (Hot Rod mag June 63 confirms)
Engine casing can catch the frame - to the right of the side stand lug - casting line removed on later models
Guards - Tinware
Front guard (H1294) and stays are from pre unit model - no dents to clear gaiters
Rear guard - 3 variants have been viewed on original bikes:
1. Centre rib extended from the tip to the bolted section at the rear frame
2. Rib extended past the sub frame, interrupted to clear the seat then extends full length
3. Bridge riveted to the guard(early production) as per pre unit item (Hot Rod June 63 mag confirms)
Rear chain guard (F5371) front section is scalloped to follow contours of the primary chain case - No skirt on lower section - Stop light switch (31383) is push type
Tool tray (F4875) hangs between the oil tank and battery carrier
Oil tank froth tower slants inwards, no drain plug hole fitted - lower seating bracket as a "L" shaped item- oil lines secured by ferrules, not clamps
Carbs
Amal Monobloc 376/302(T120) 376/40 (TR6) JoMo technical info manual spec 1 1/16" no chokes - 3 1/2" slide - chrome bellmouths
Flat bowl screws (376/151) safety wired
Alloy dual twistgrip 313/6 T120 - TR6 Chrome single pull
Dual air filter E5262 was not fitted to the 1963 build year - was made available together with carb adaptors E4576 29 November 1963, TriCor Service bulletin confirms -
Instruments - T120 - TR6SS/C
Speedometer - Chronometric SC5301/26 - 140 MPH (T120)
Tachometer - Chronometric RC1307/02 - 10.000 RPM (T120)
Speedometer - Chronometric SC5301/03 - 120 MPH (TR6SS/C)
Tachometer - Chronometric RC1307/01 - 8.000 RPM (TR6SS/C
Triumph 1963 sales brochure advises a 10.000 RPM was fitted to T120
Tyres
Front : Dunlop ribbed 325 x 19 ( Speedmaster)
Rear : Dunlop Universal 400 x 18 (K70)
Wheel Offset
Front : Brake hub level with rim edge
Rear: Bolt on hub flange to rim edge 3/8" or From sprocket edge to rim edge 1 5/8"
Paint work
Frame : All black
Tank : Alaskan white(T120) TR6 Regal purple/Silver
Guards : Alaskan white with Gold centre lines edged in black - TR6 Regal Purple -Silver centre lines edged in gold
Bearings
Wheels: 6204RSR sealed
Gearbox: Main shaft SKF6303
Layshaft B.1112 - M11121
Engine ; Timing side MJ 1 1/8" C2 or 00 spec
Drive side MRJA 1 1/8" CN or 00 spec - original fitting MJ 1 1/8"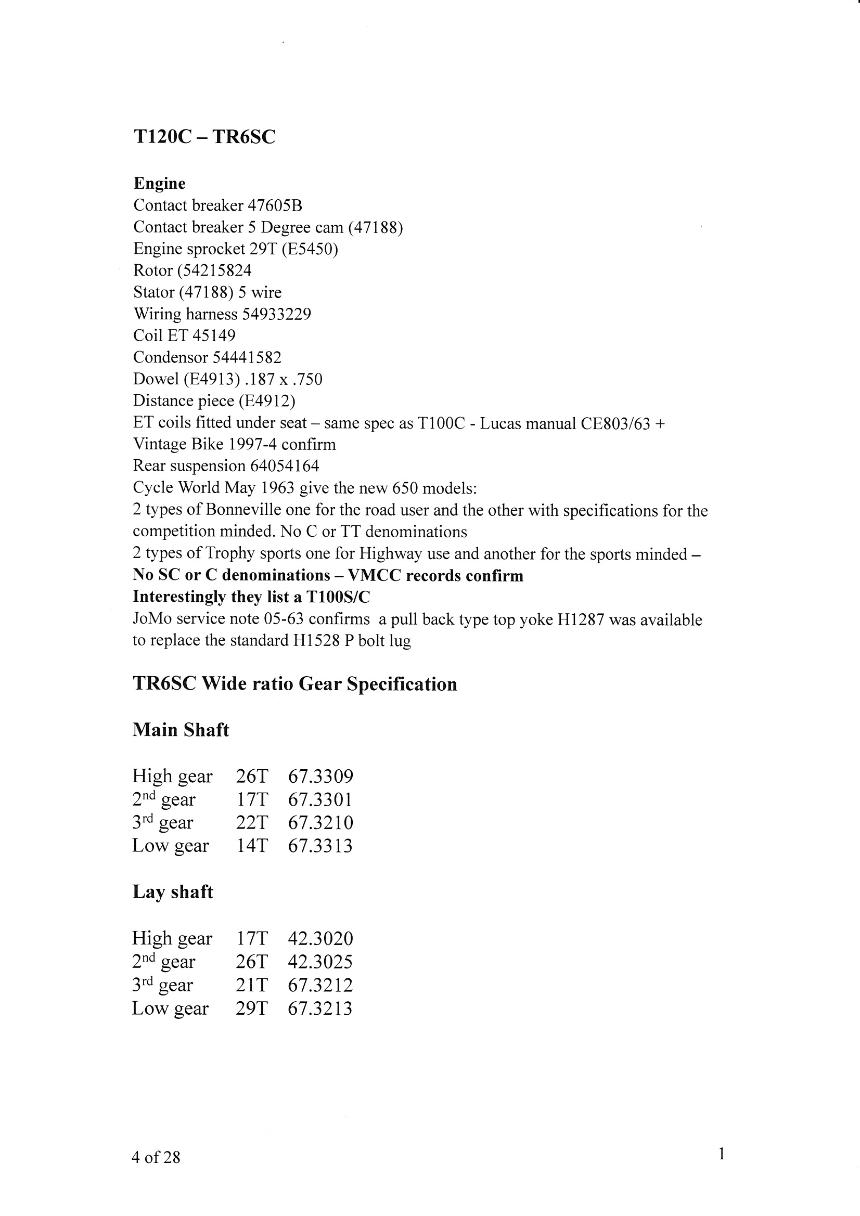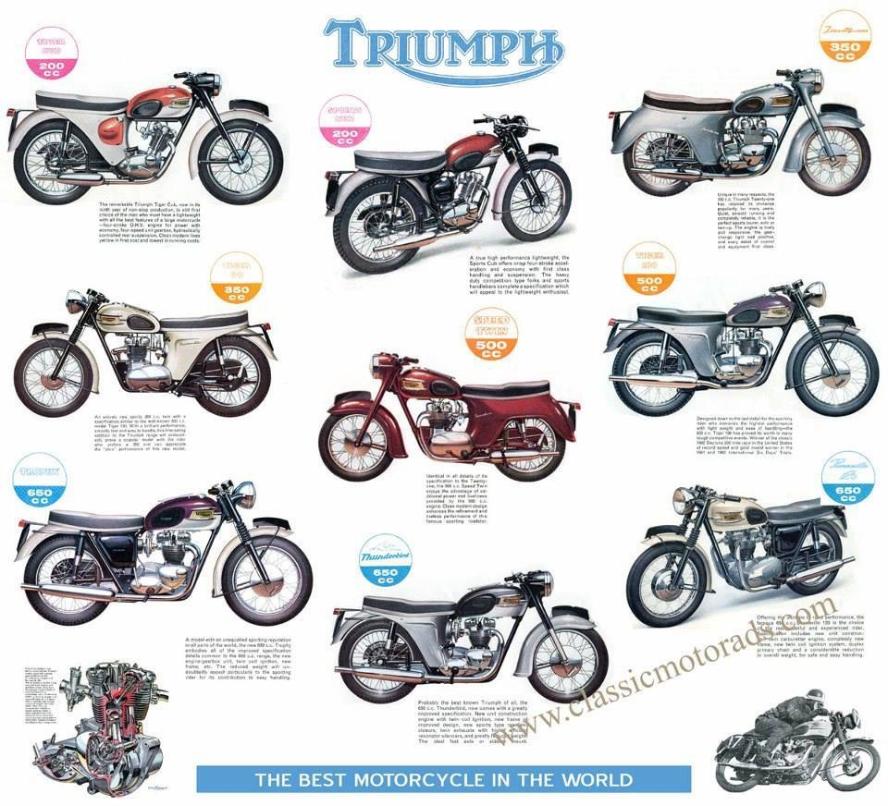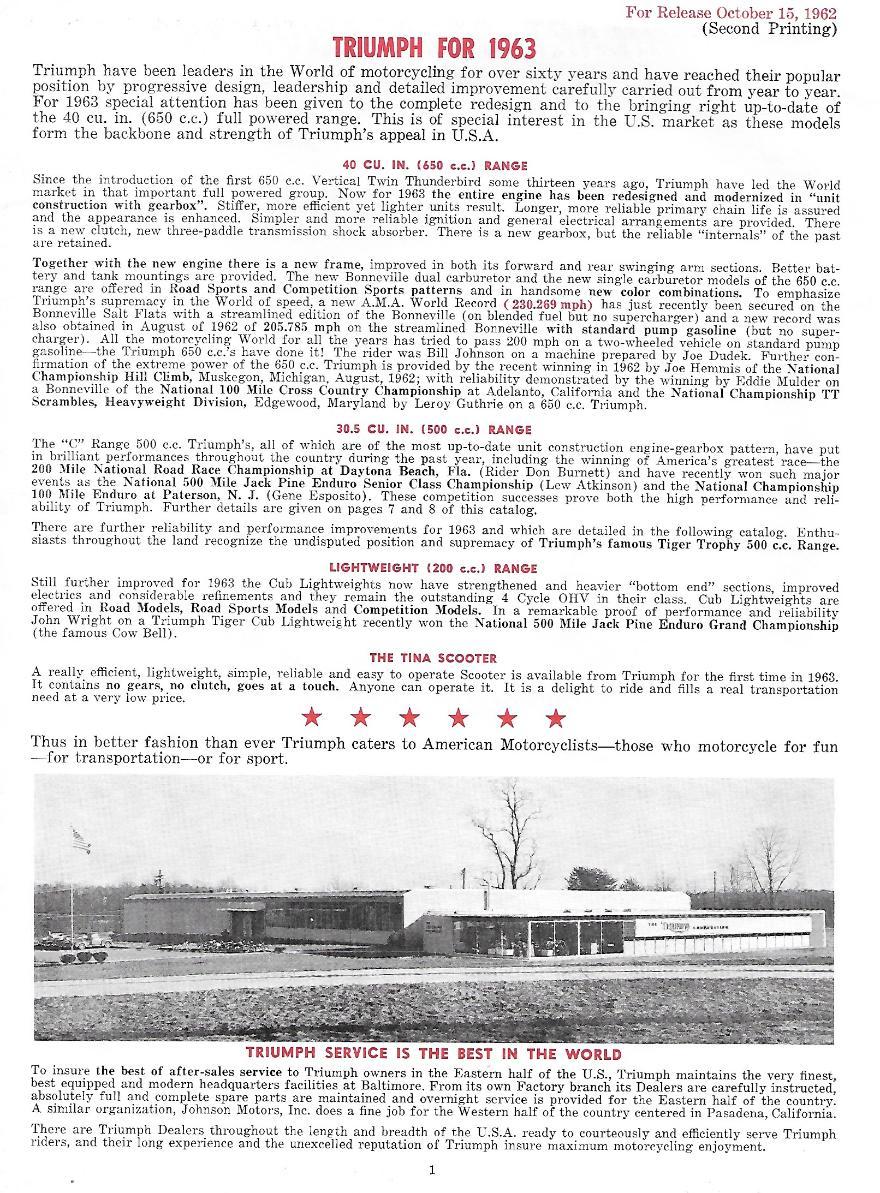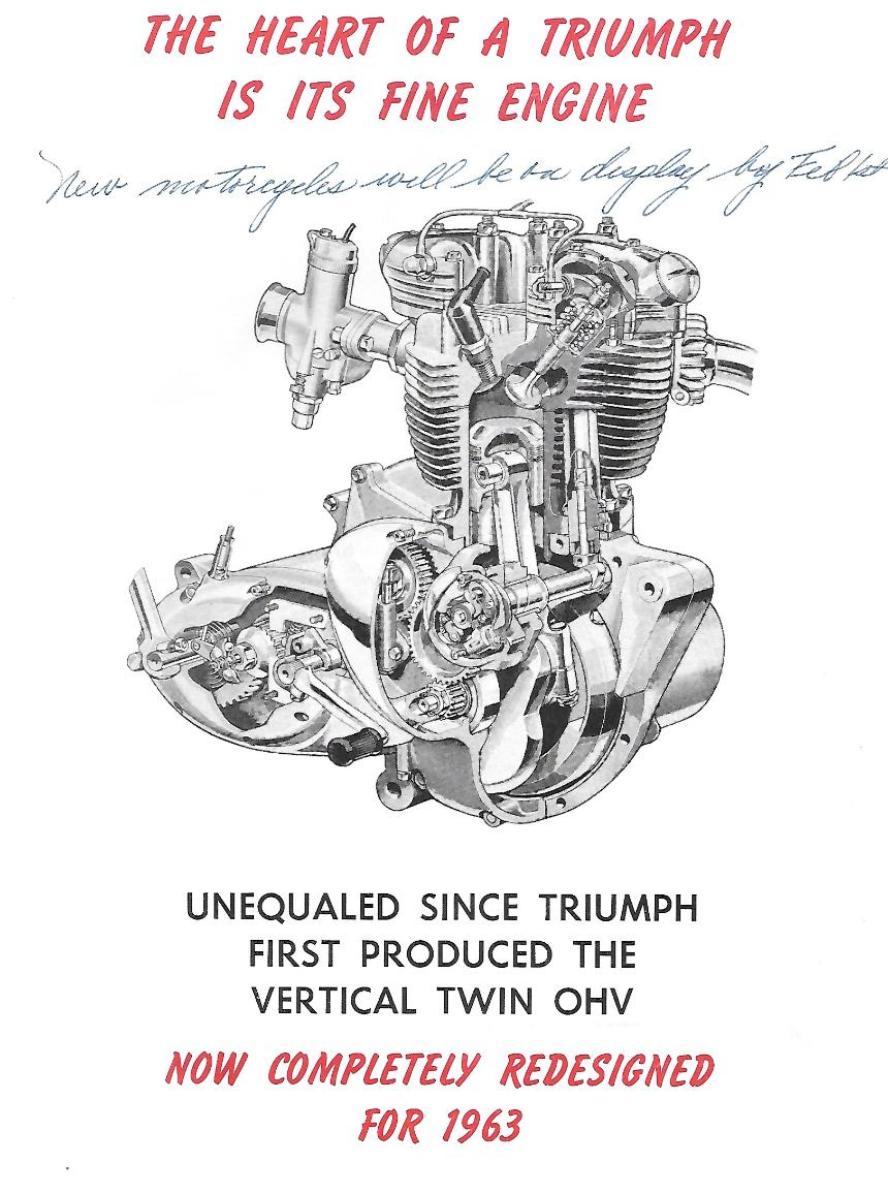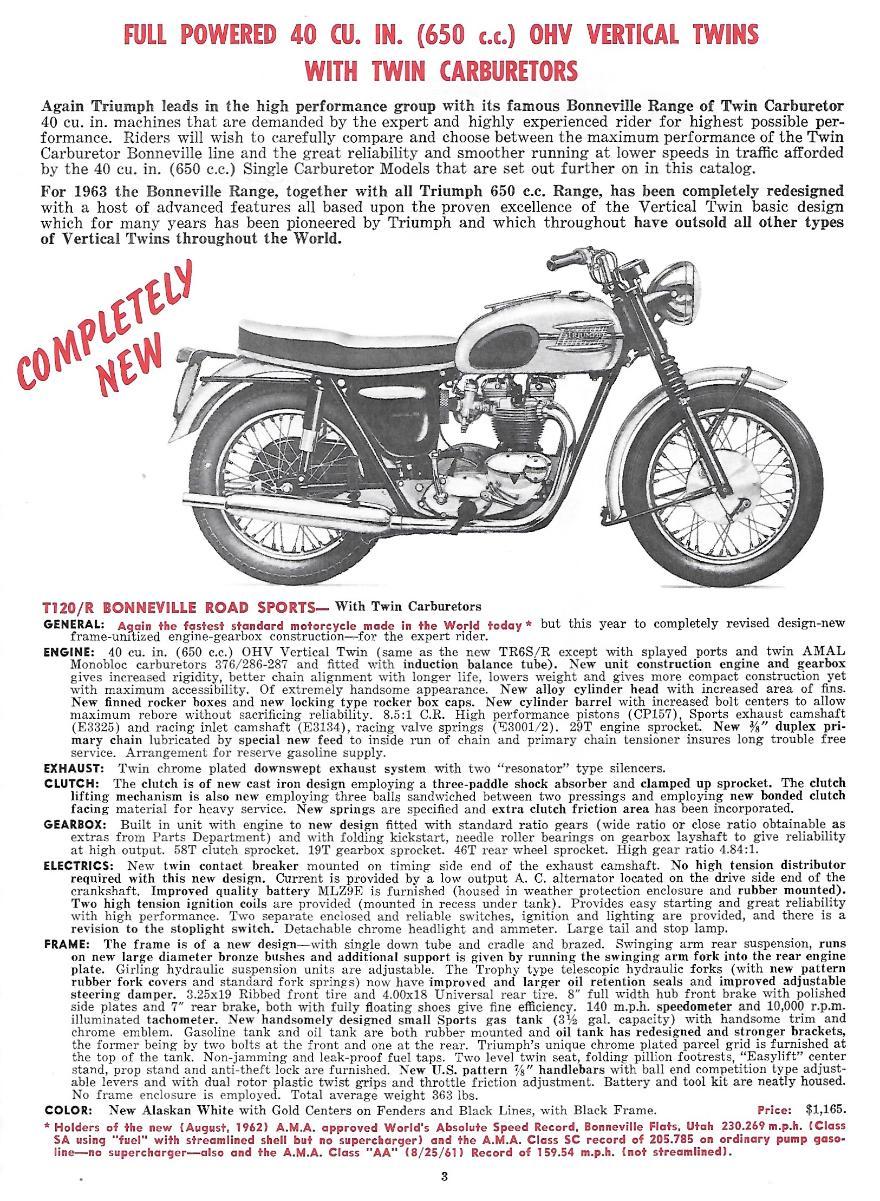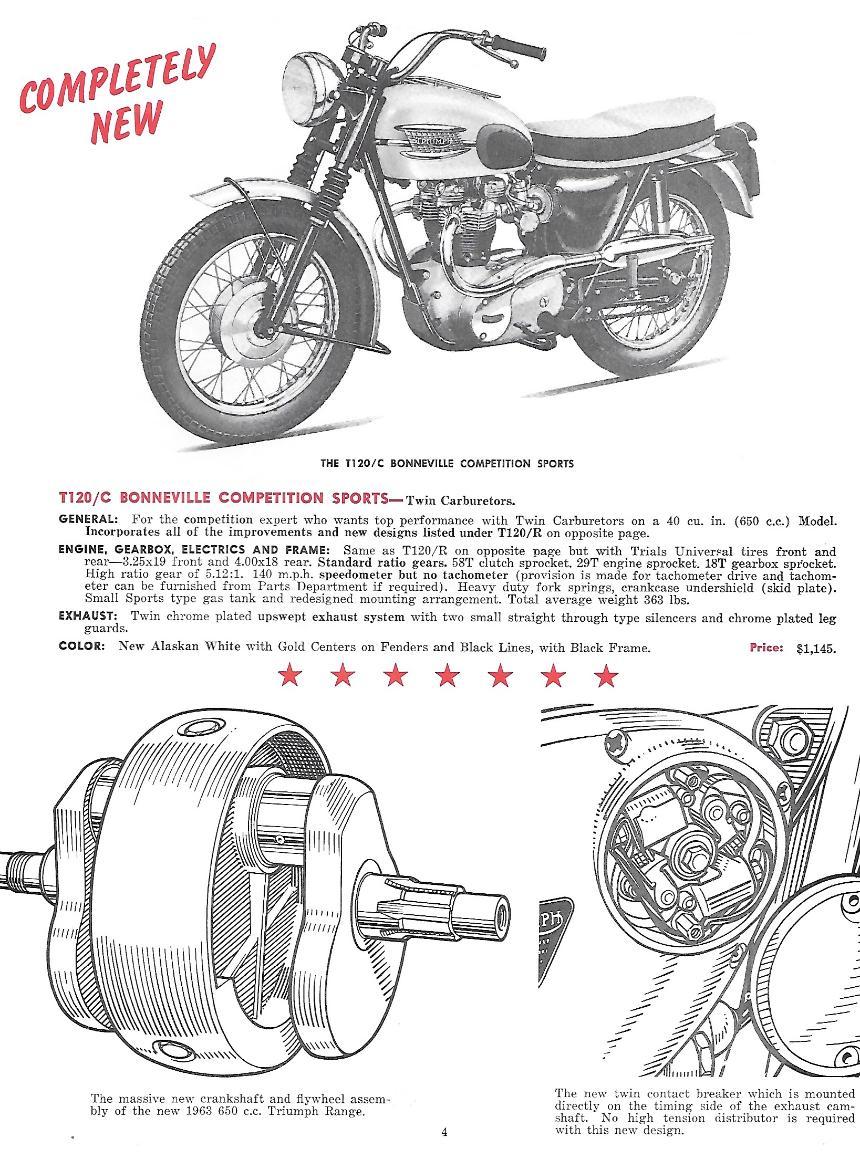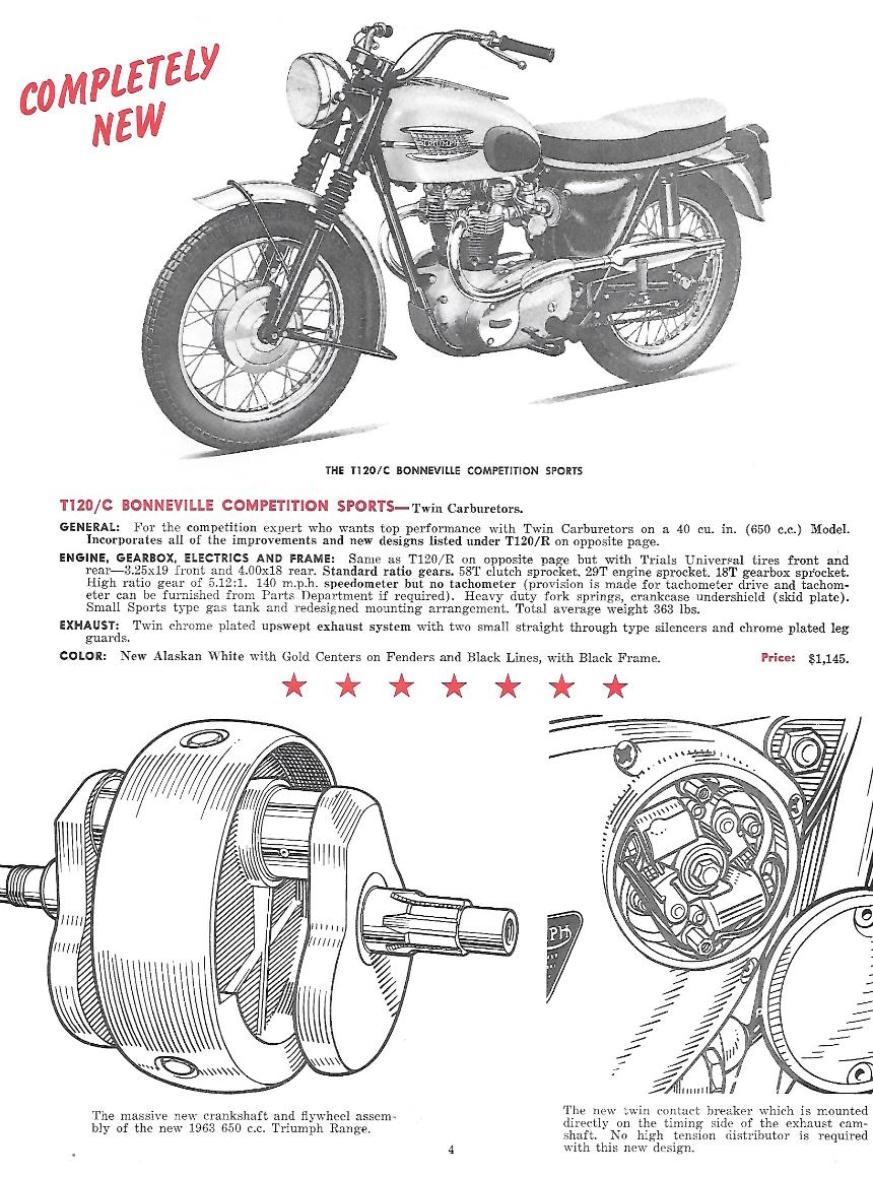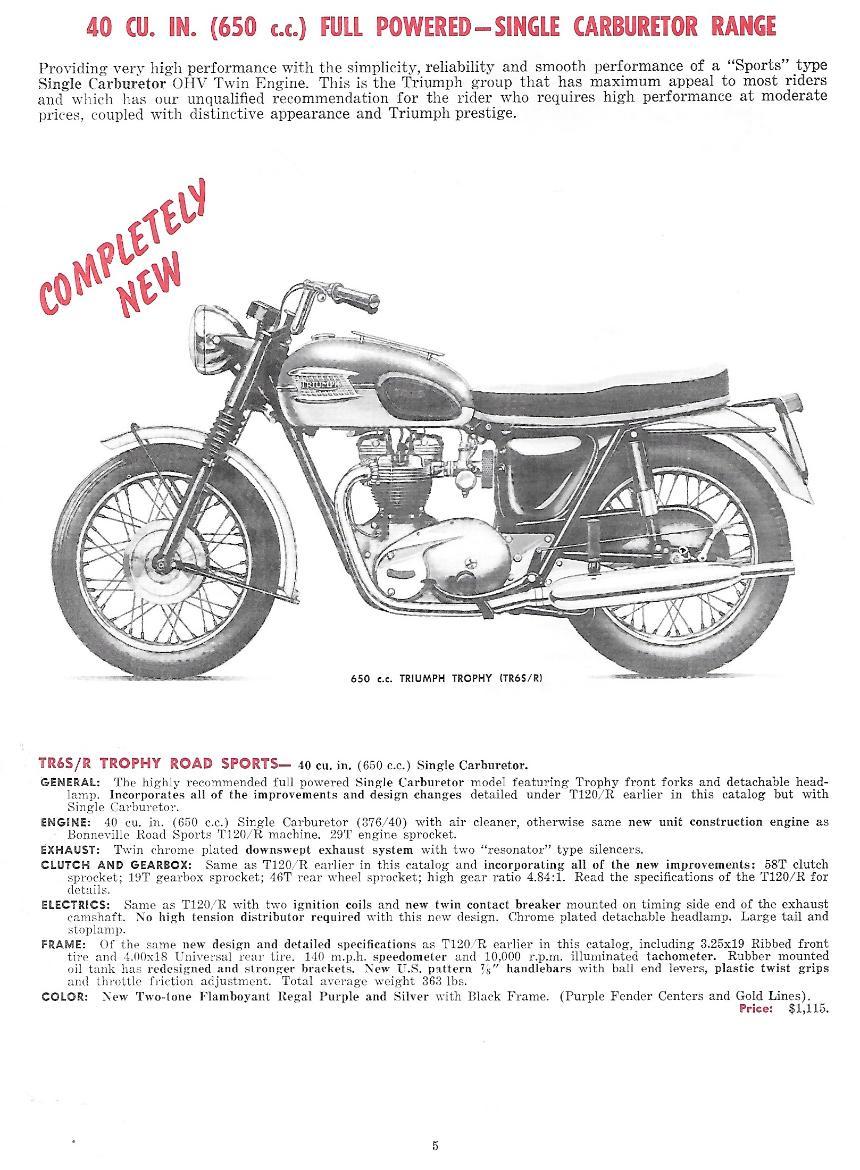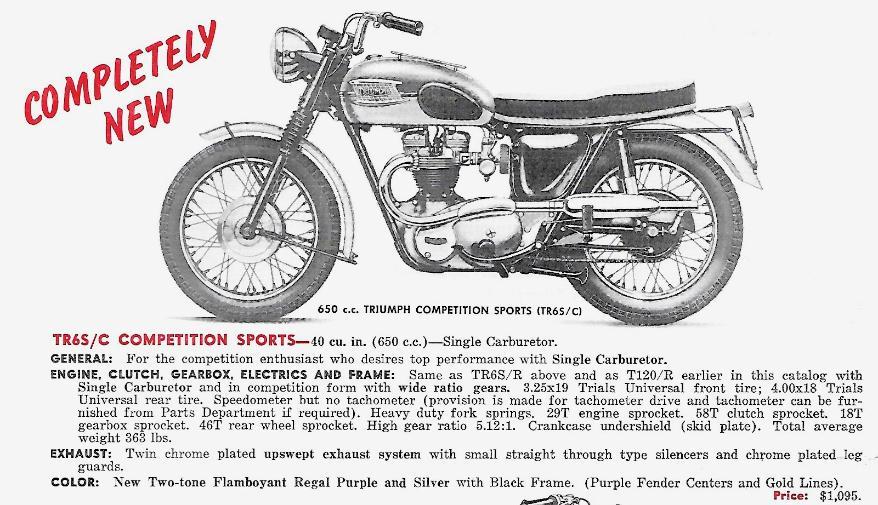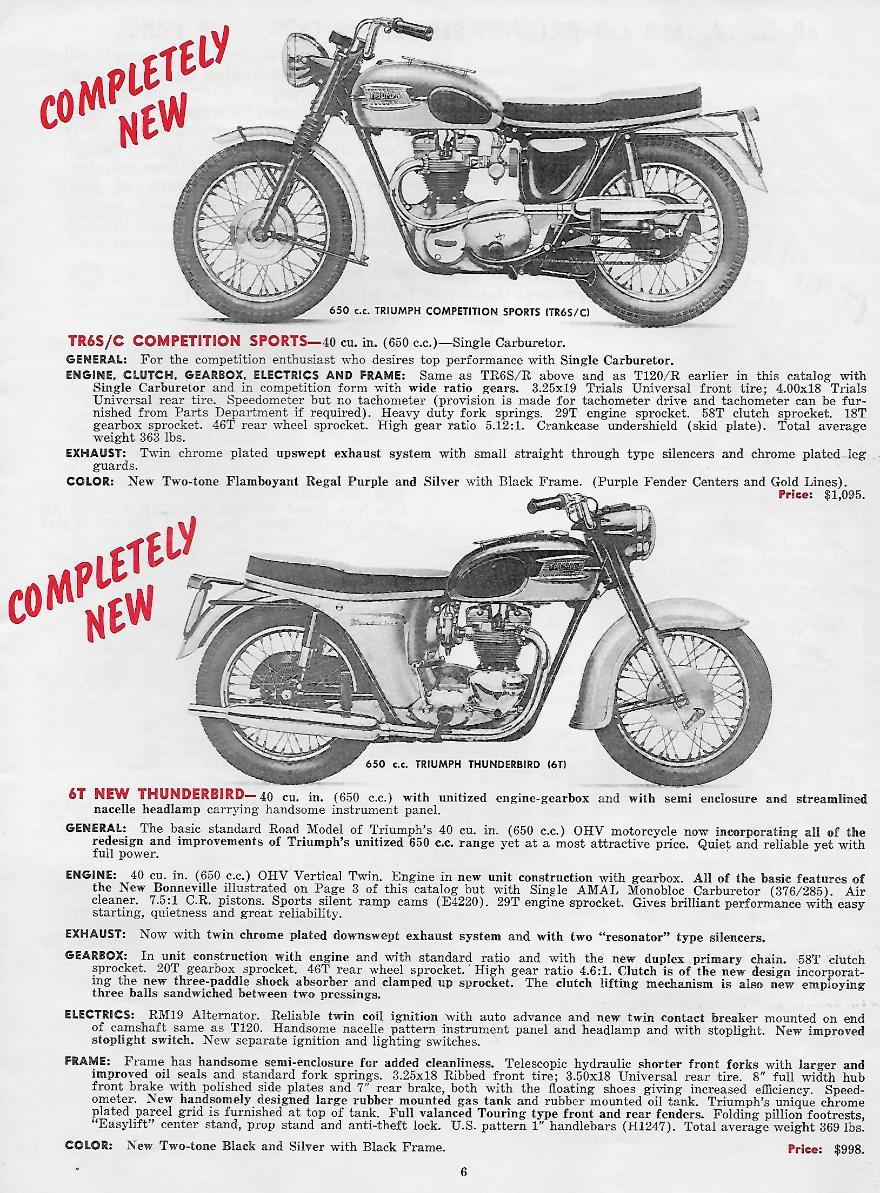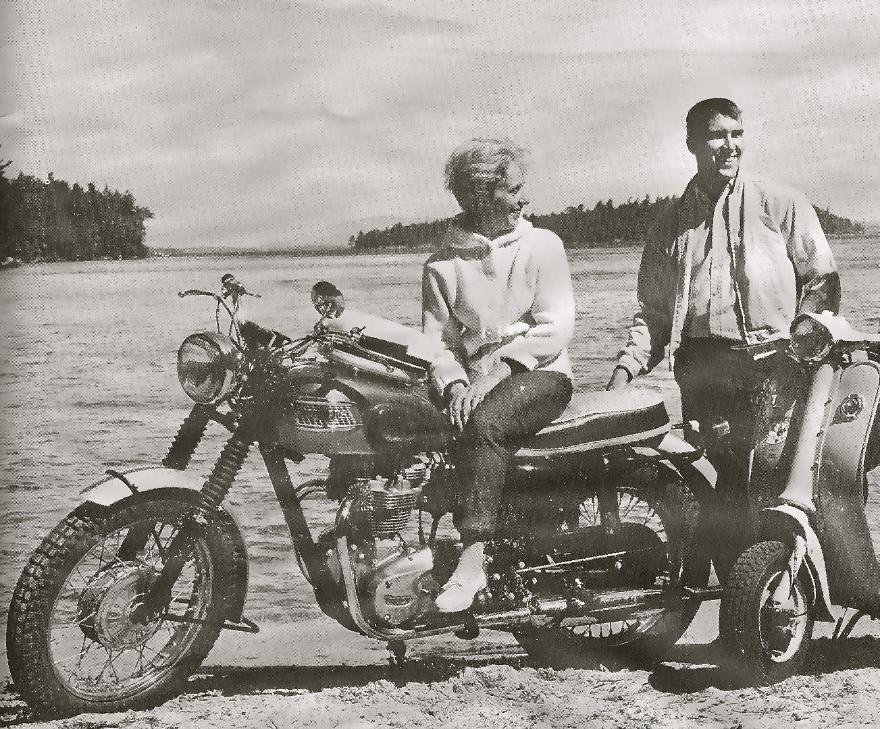 Johnson Motors (JoMo) brochure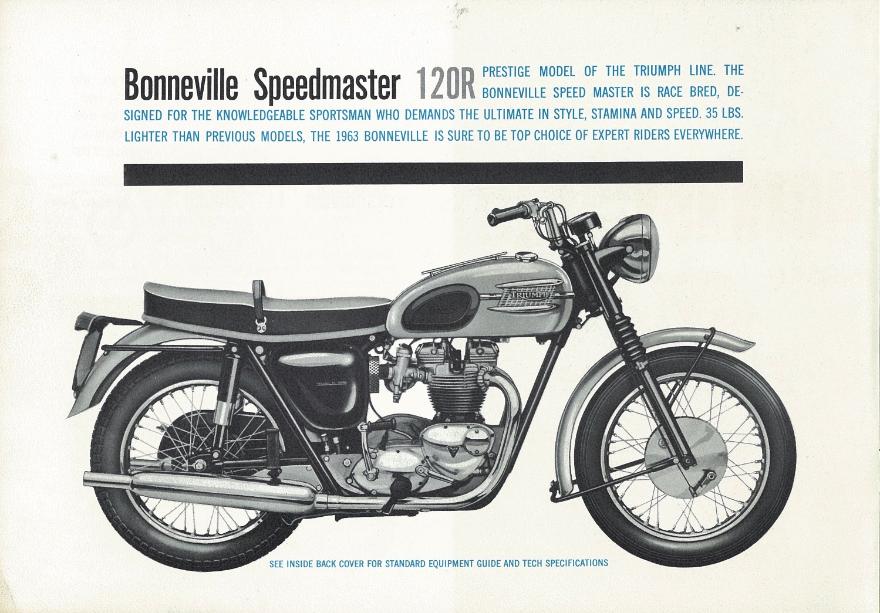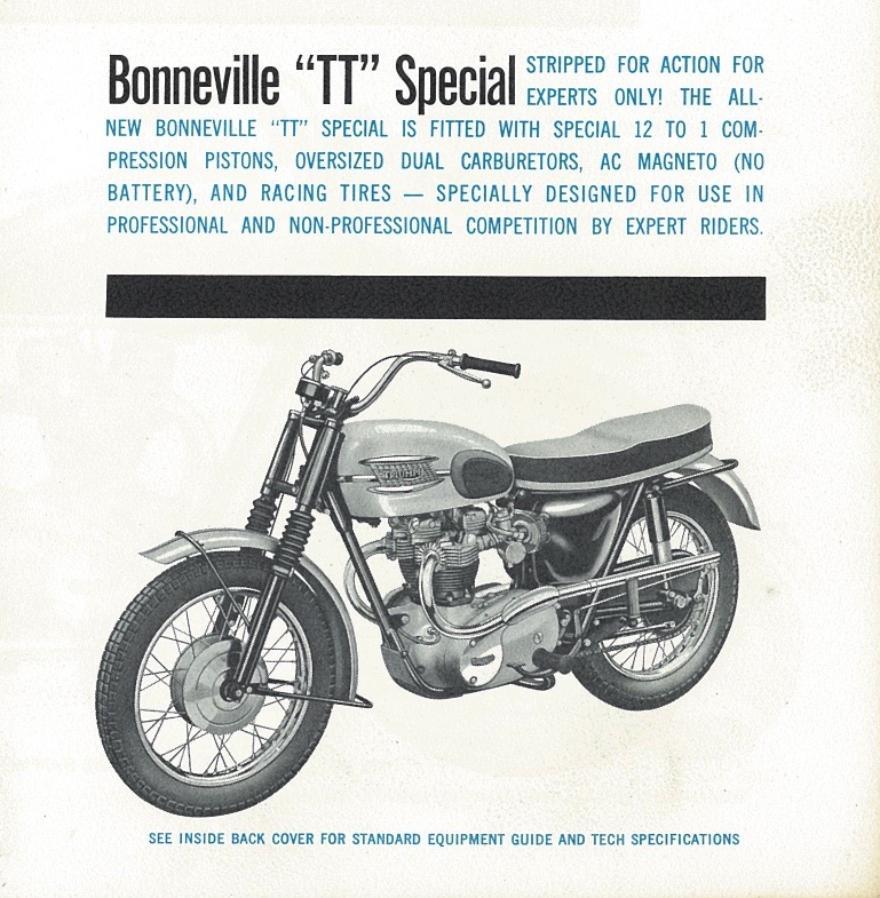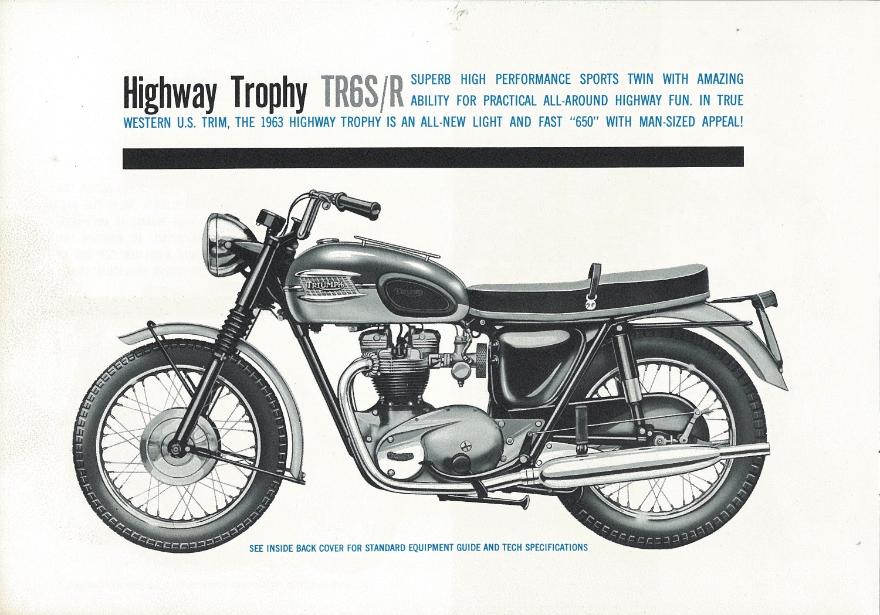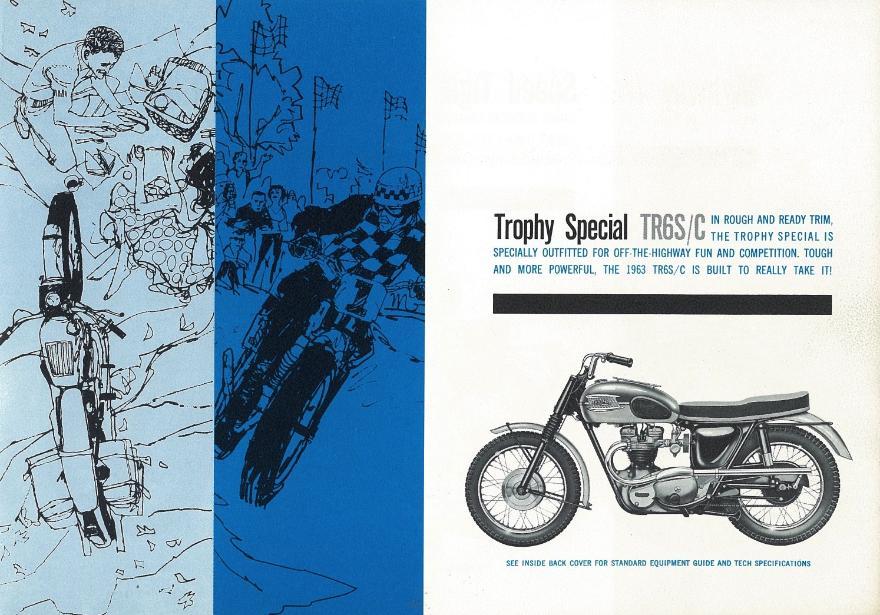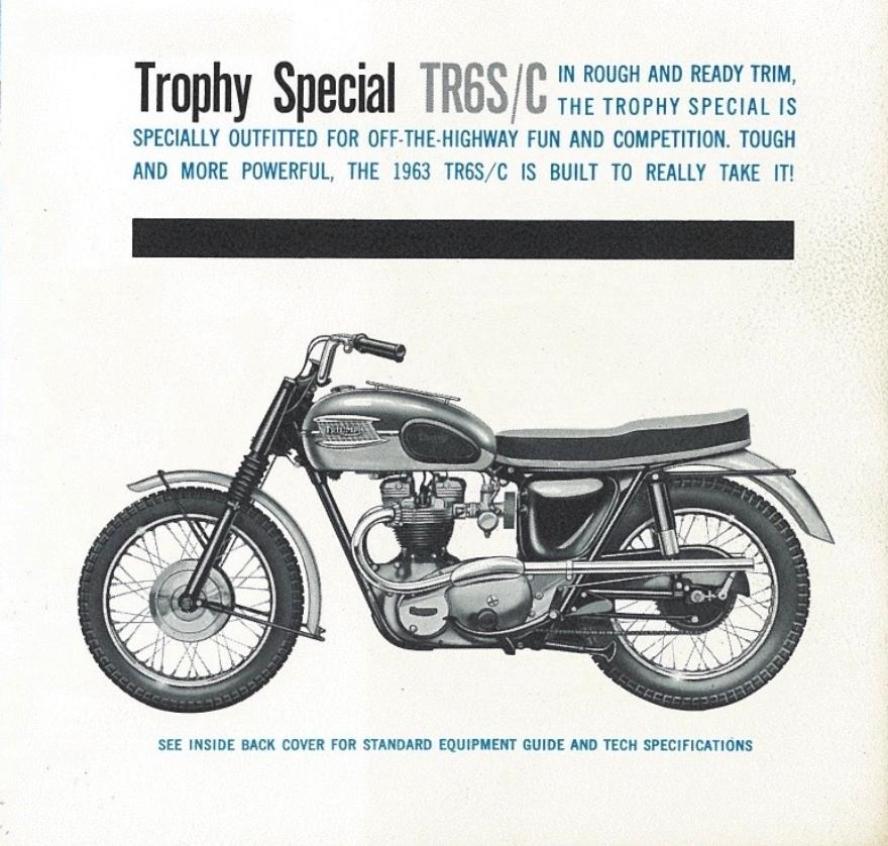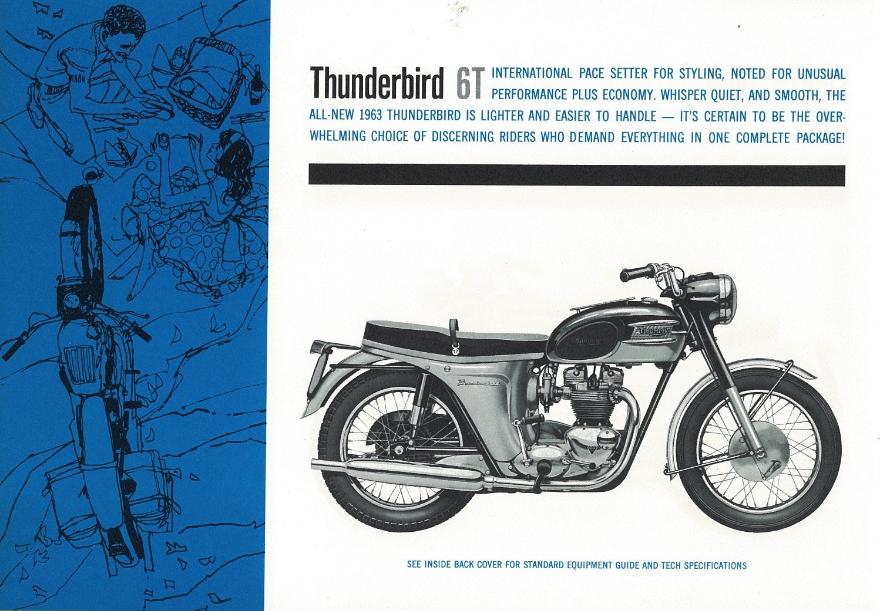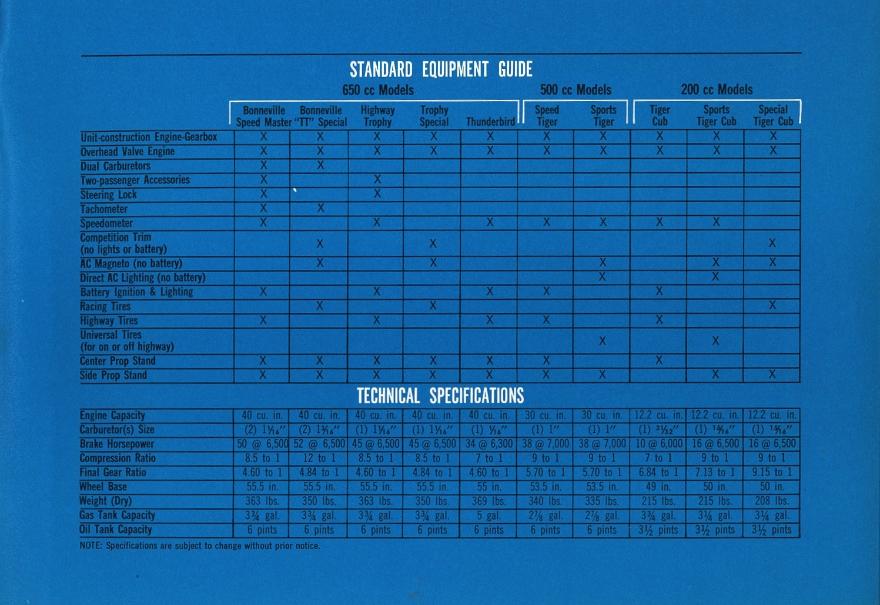 Drive side crank oil seal fitment 63-69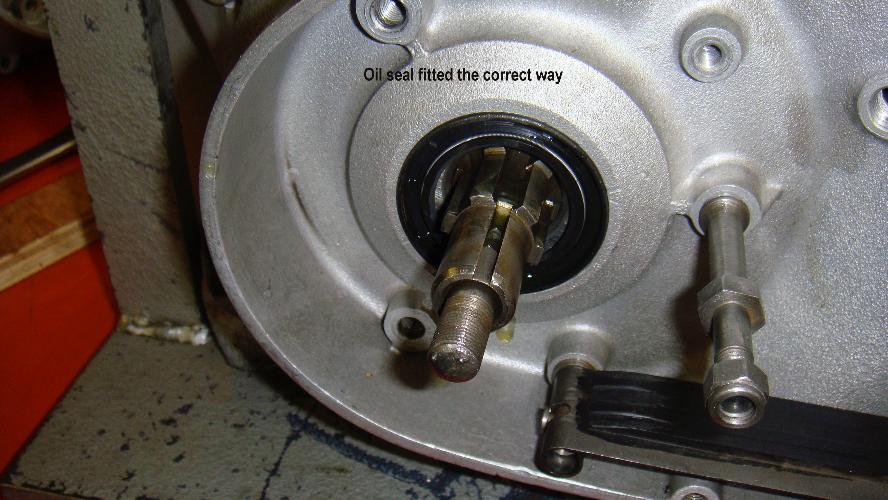 Lucas Spares Listing CE 830/63, clearly states-When fitted with ET equipment, ignition details are as for T100SC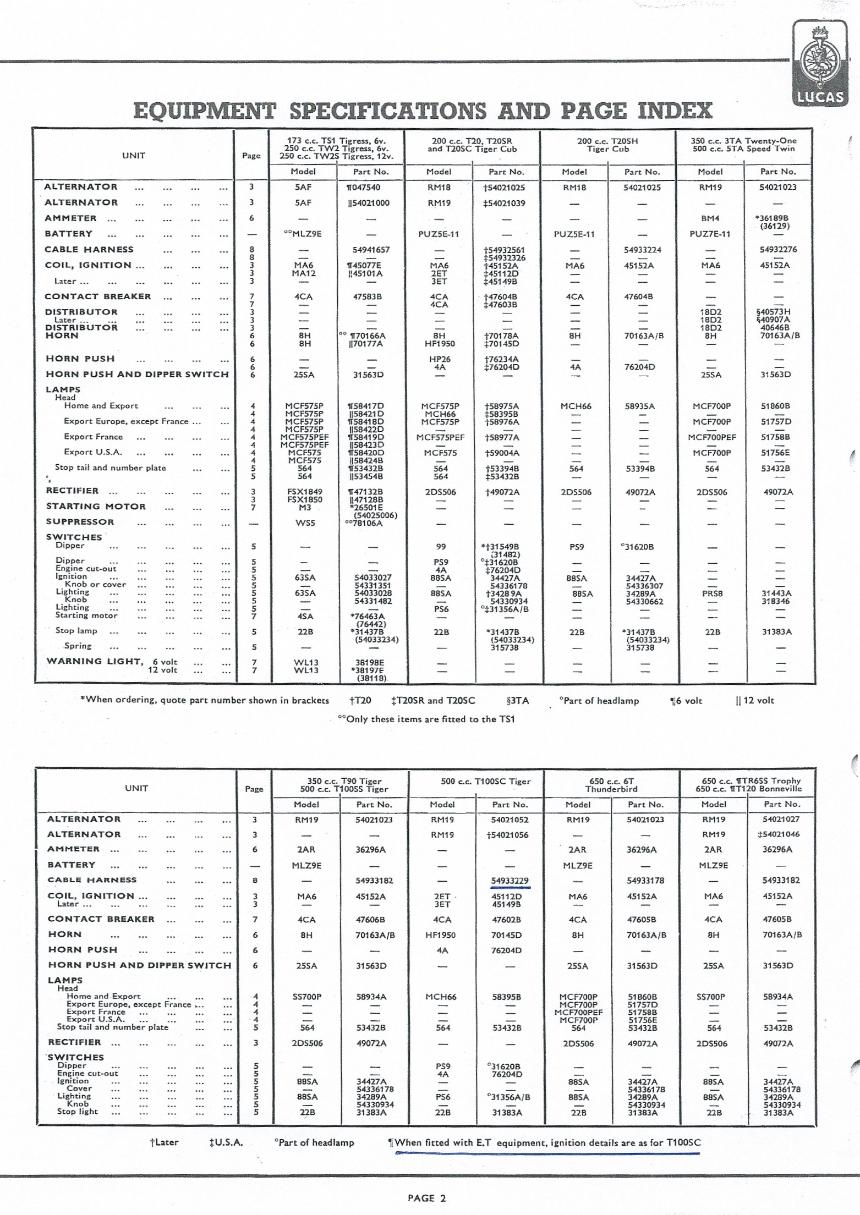 Hot Rod Magazine June 1963 - Bonny Bloomer section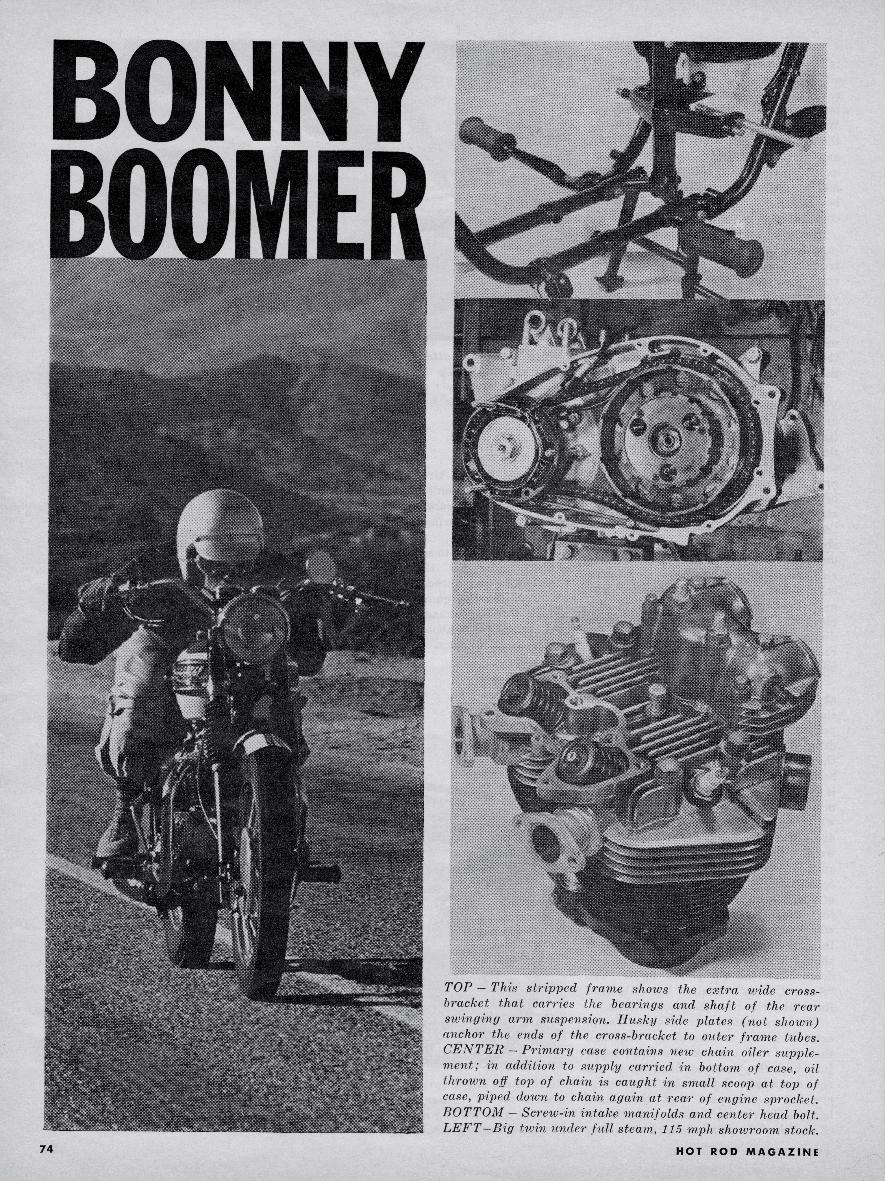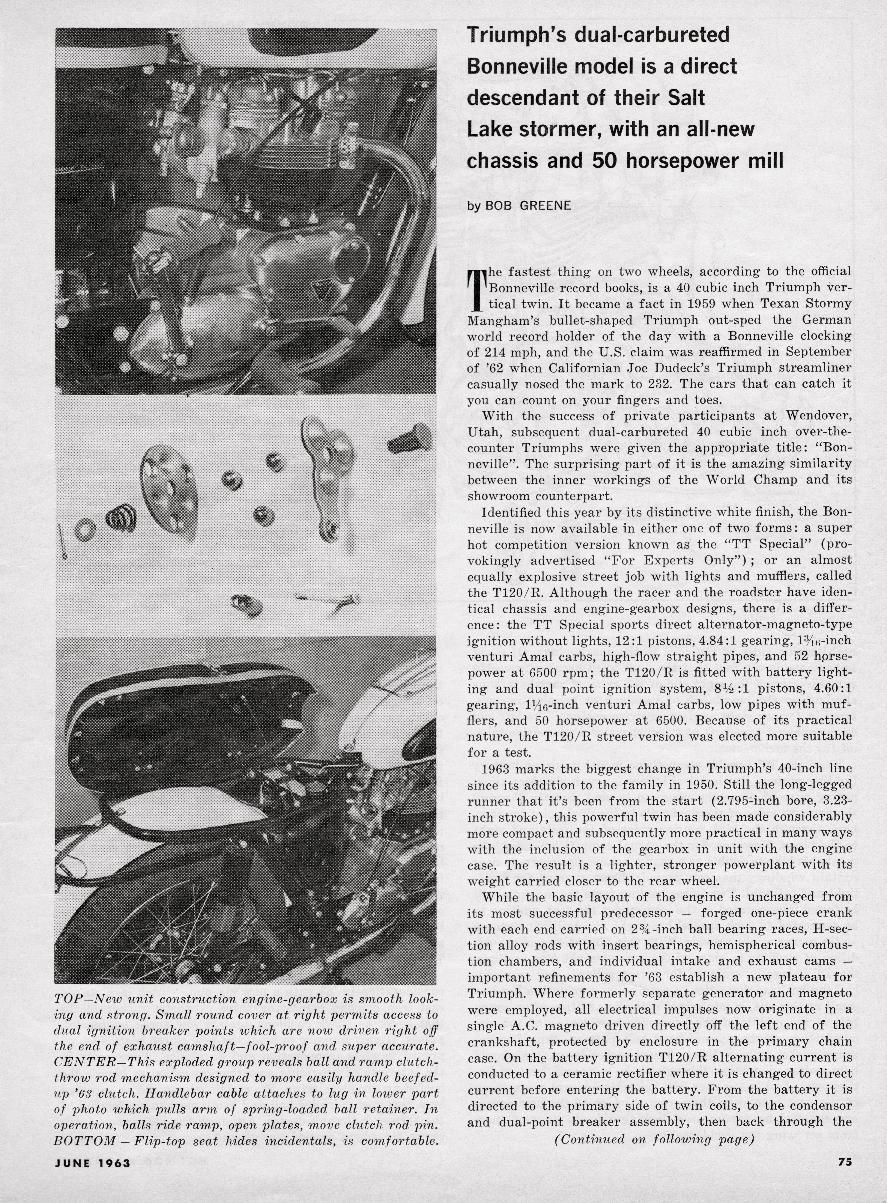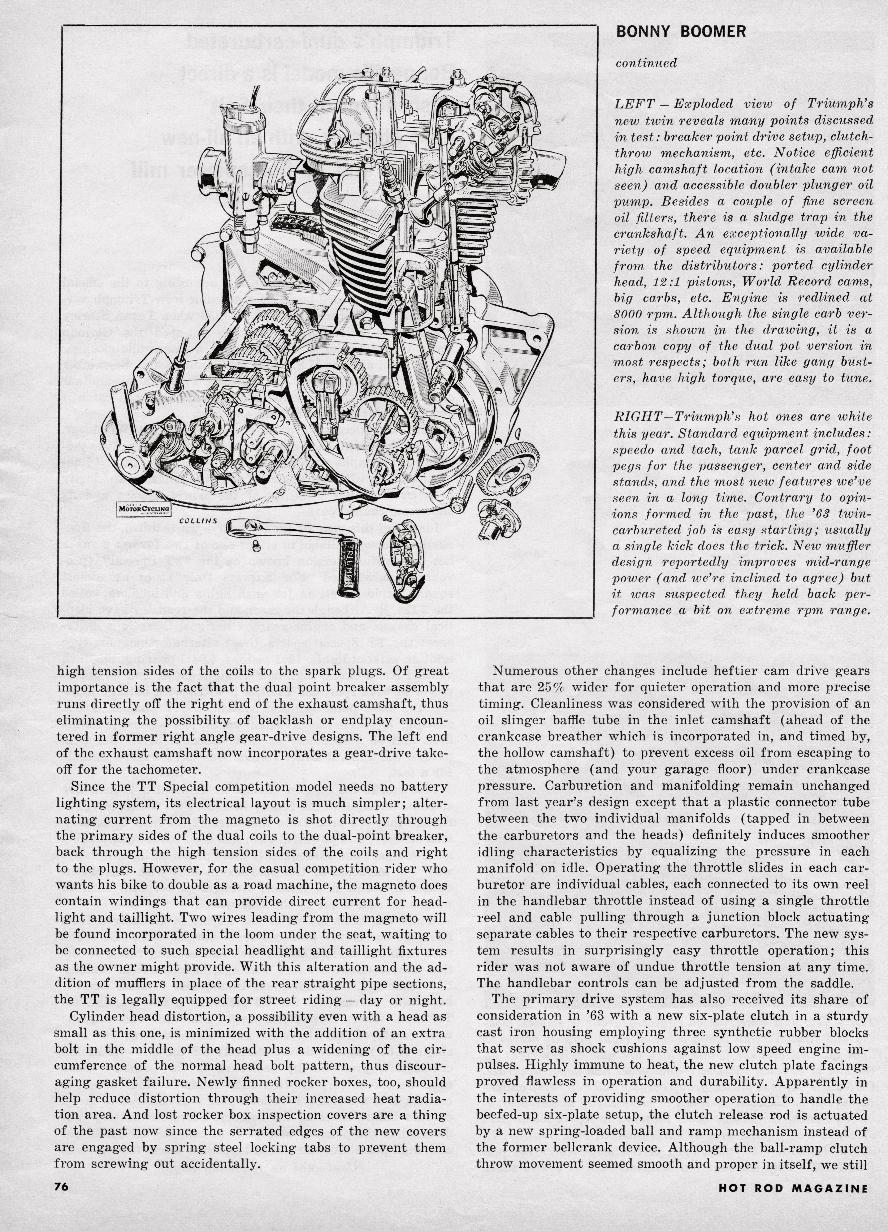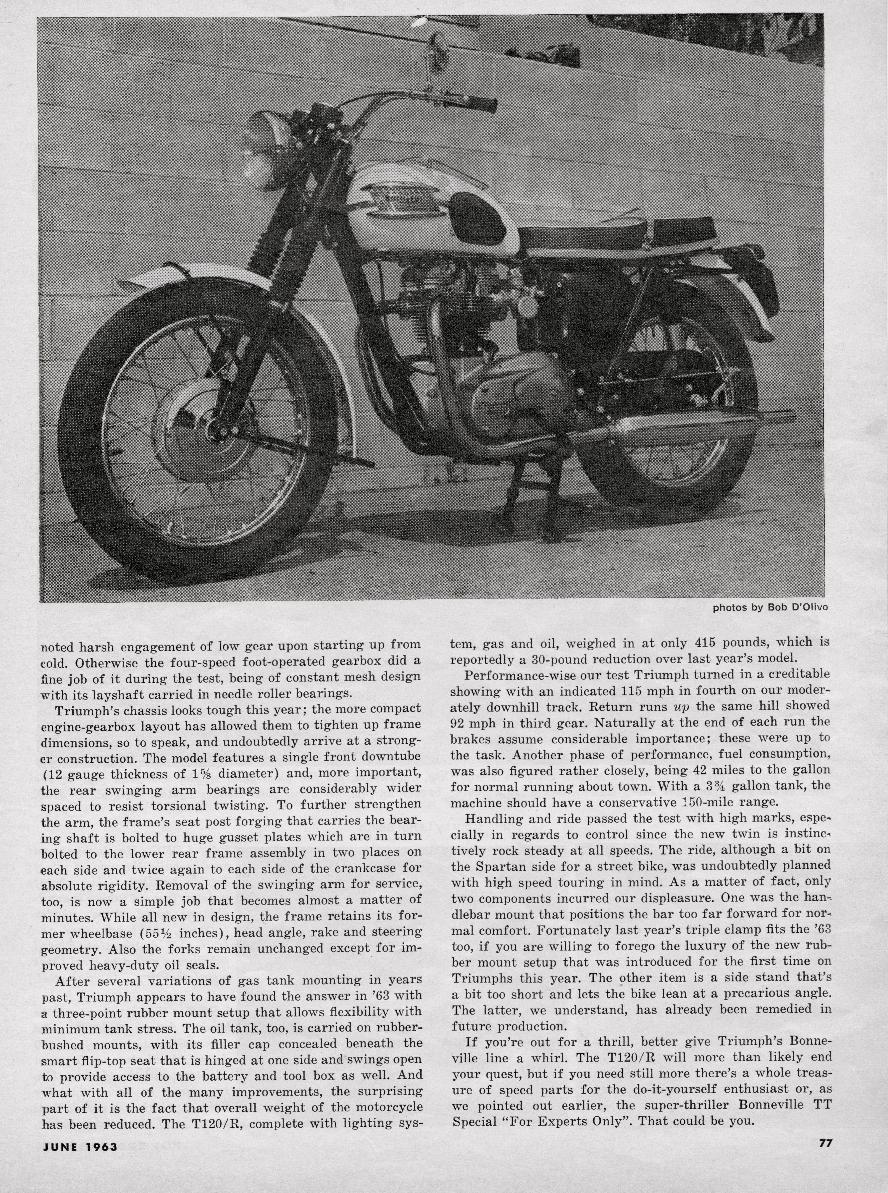 ET Coil mount position for T120C - TR6SC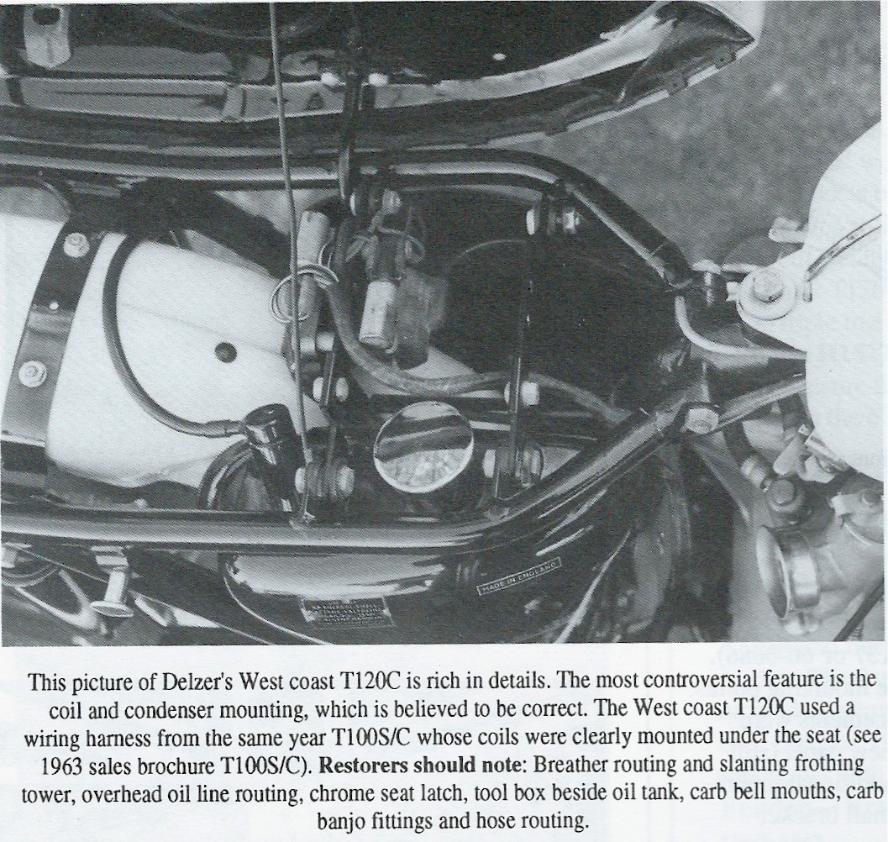 ET coils 45149 - Wiring Harness 54933229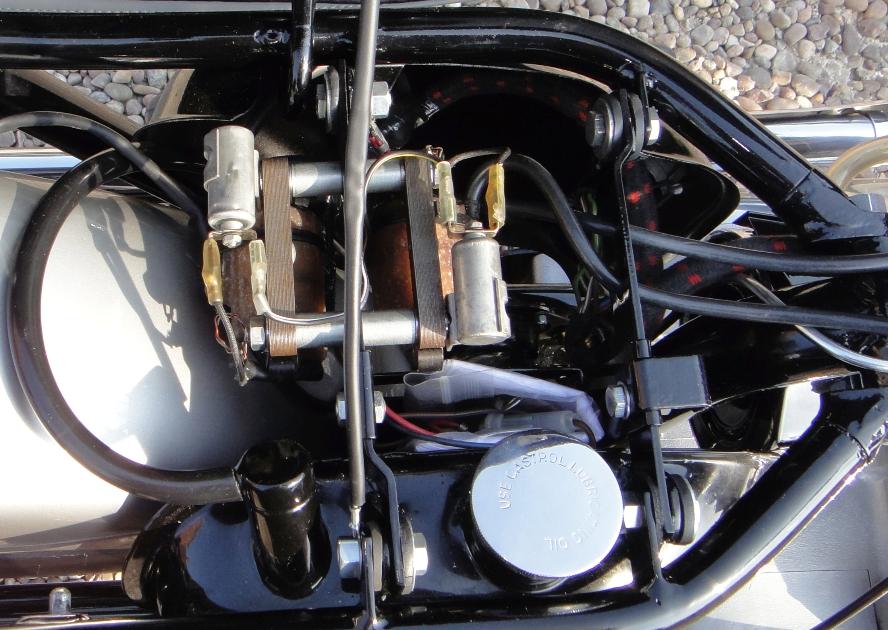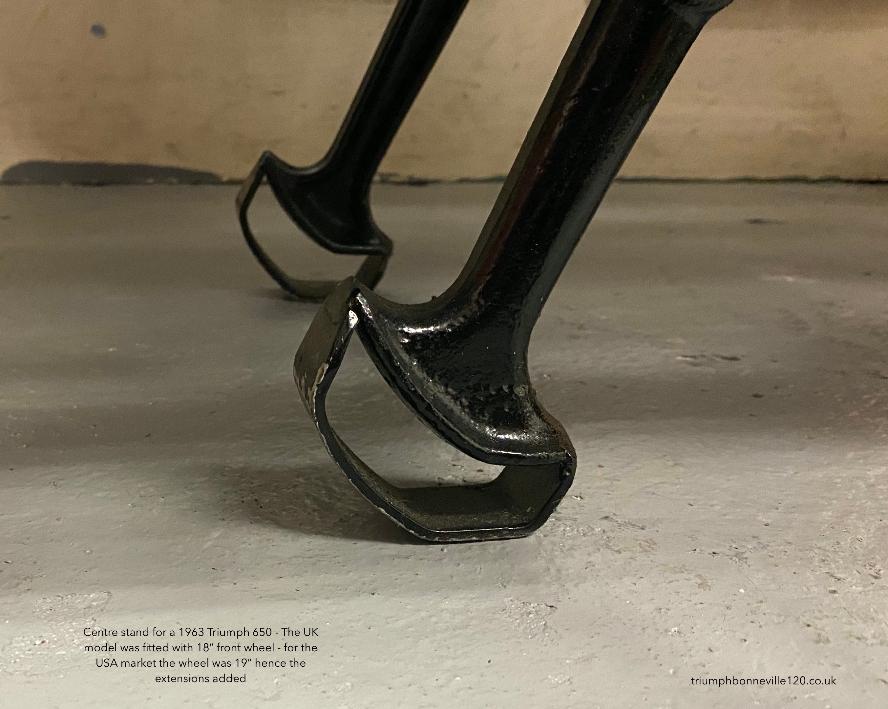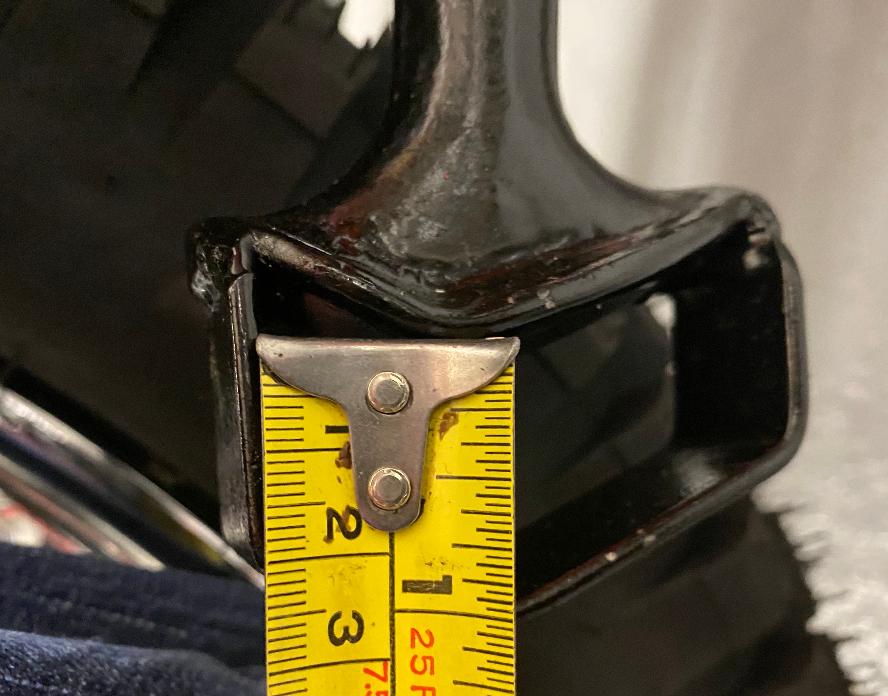 Extension arm from the 63 only centre stand 82 5350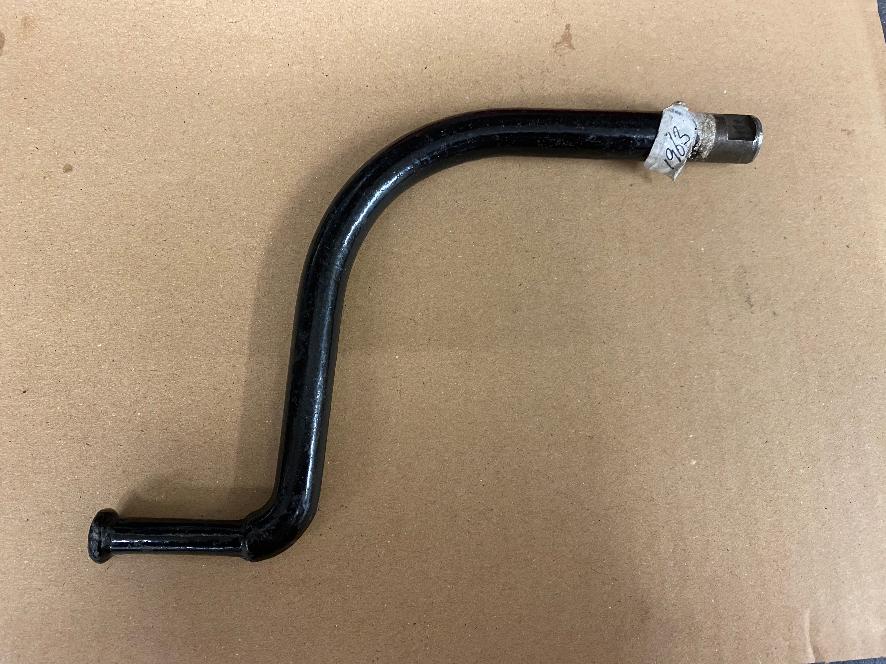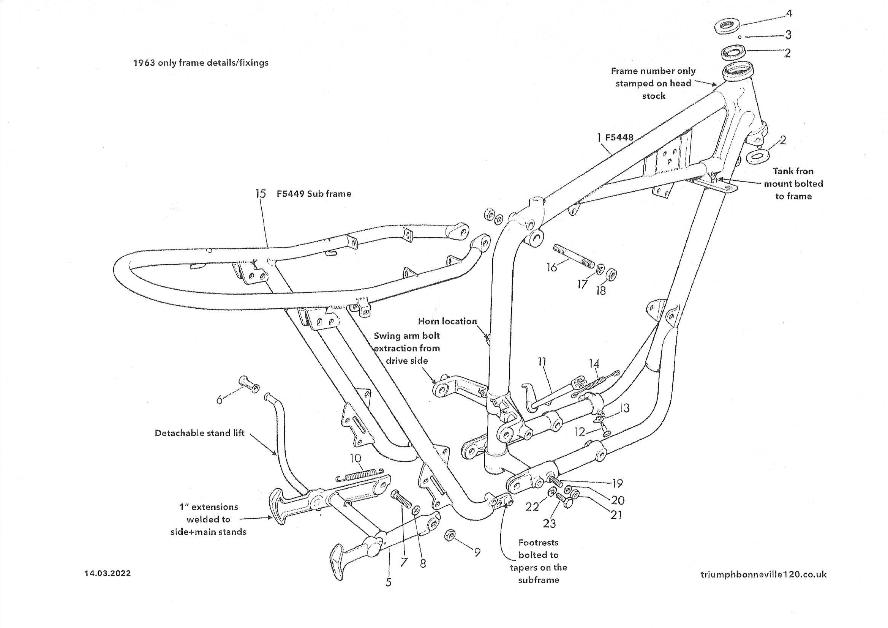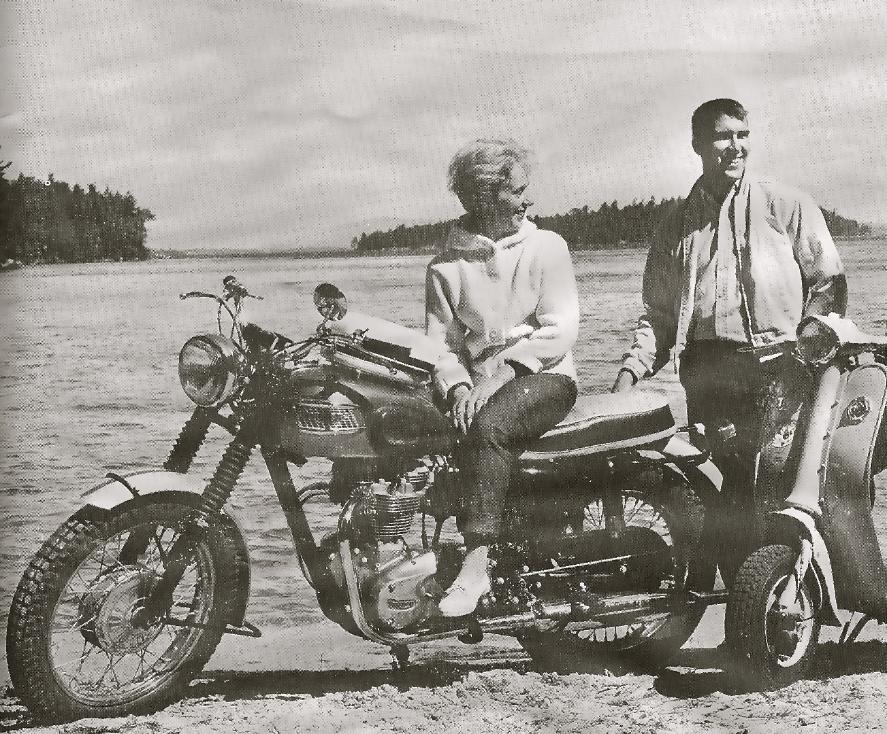 Meriden publicity picture from 1963, showing the correct 31383 push type stop switch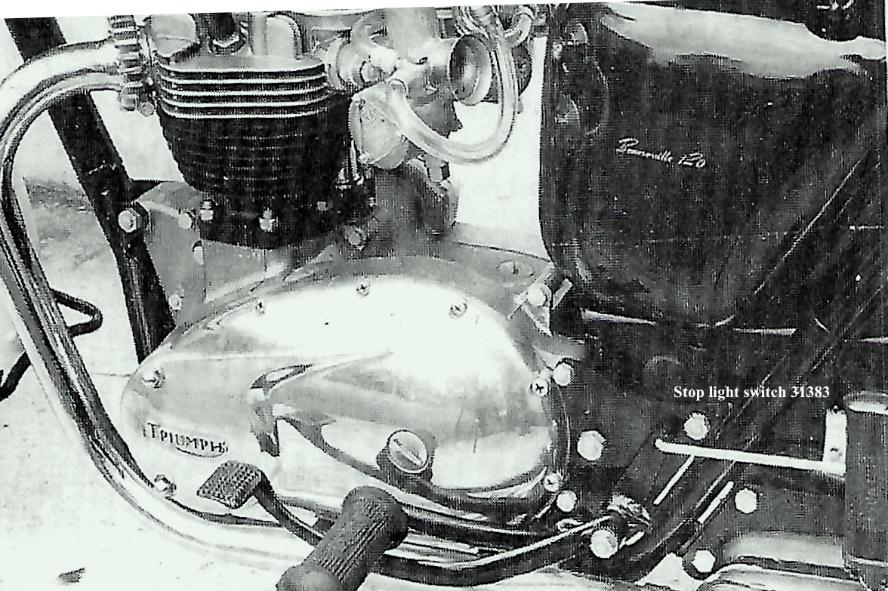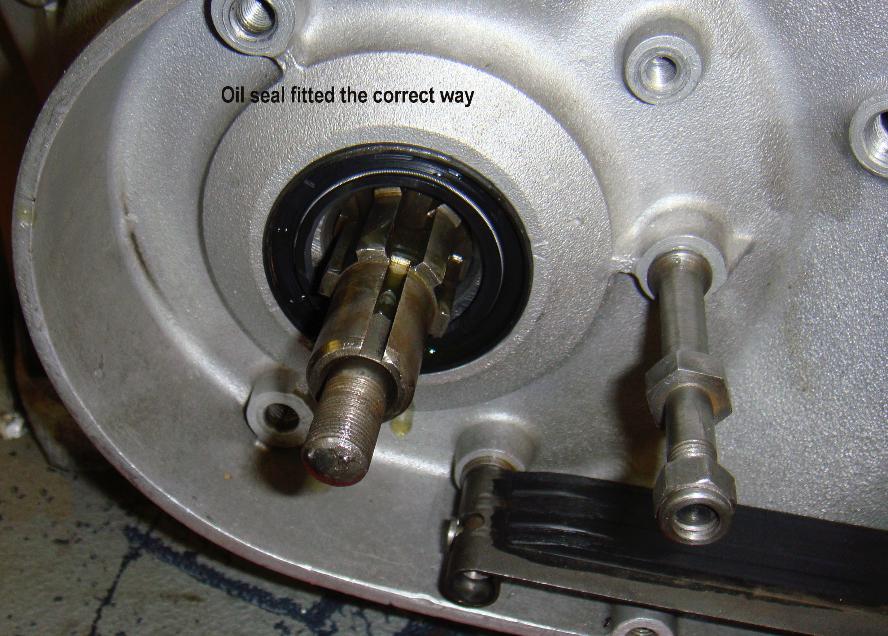 1963 Triumph 650 fork specifications, in the main pre unit items